The harsh Indian summer has already started to raise the mercury pretty high and we're still not in the peak season. What you need to do is arm your house with all the gadgets and electronics that can save you from this heat and give you a cozy environment while you work or have some rest.
Pedestal fans are a crucial part of that equation as the kind of portability they offer is nearly impossible to ask for from other products like air conditioners and ceiling fans.
During the season, many even prefer to sleep on their open terrace with particularly especially a pedestal fan to run all night. Modern pedestal fans have changed quite a bit in the recent past and you can get some of the most aesthetically pleasing yet functional fans without having to spend a ton.
Here are some of the best pedestal fans that you can buy right now.
Powerful Pedestal Fans in India
1) Havells 400mm Tourner Rotatable Pedestal Fan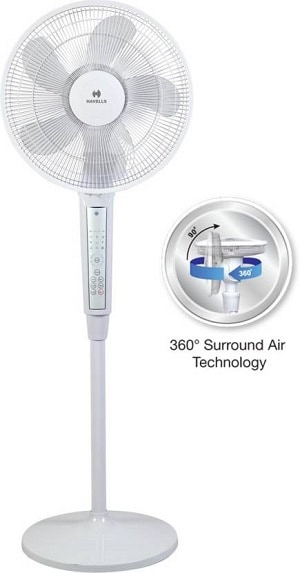 Pros:
Packed with a ton of features, this Havells pedestal fan is one of the best ones available in the market.
The most unique feature of the fan is its 360-degree swivel and you can even move it vertically in both directions and it can even face straight upwards!
The built-in control panel offers a range of options to customize it as per your needs while a remote control also comes included.
This is a 60W fan with its motor running at 1200RPM and its speed can be adjusted to your desired level.
Even at its fastest, the fan is noise-free and wouldn't bother you while you are asleep. The 5-blade fan offers an 8-hour timer and comes with a 2-year warranty.
Cons:
Compared to other models, the pricing of this pedestal fan seems to be on the higher side. Like most modern products, this one too is made out of polycarbonate, which may not be as sturdy as metal.
2) American Micronic AMI-PFT-55WDx 400mm Imported Pedestal Fan
Pros:
For its price, and even otherwise, this pedestal fan from American Micronic is an excellent product that offers quite a lot of features.
It not only carries wheels attached to its base to move it around, but there is also a timer function that you can set for 120 minutes.
Another great quality of this fan is an automatic oil reservoir that lubricates the motor to extend its life. Its 55W motor can run at 3-speed settings and the company is offering a warranty of 2 years.
Cons:
Being an imported pedestal fan, the package goes through a lot of rough handling which has resulted in broken or faulty parts for some users. In any such situation, you might need to go through an exchange process.
3) ANSIO 400mm High-Speed Pedestal Fan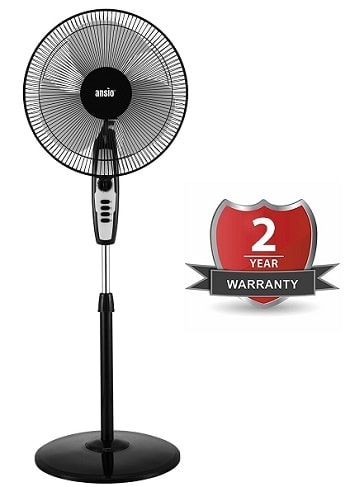 Pros:
One of the fastest pedestal fans on this list, the ANSIO fan has a copper motor that can run at a speed of 2300 RPM which is much higher than conventional products.
Oscillation is supported up to 80 degrees and you can adjust fan head vertically too while also being able to adjust its height.
For adjusting the fan speed, you have three options and you can even set a 2-hour auto turn-off timer. The company is offering a warranty of 2 years on this product.
Cons:
The USP of this fan is definitely its high-speed nature but that also comes with a couple of disadvantages—increased electricity consumption and loud noise when running at full speed. This model doesn't come with a remote controller.
4) Havells V3 Turbo 450mm Pedestal Fans
Pros:
If all you need is a plug and play pedestal fan that does the basic job and does it well then Havells V3 Turbo is a fantastic fan for your house.
This 3-blade fan has a large 450mm head with its motor running at a maximum speed of 1400RPM giving you a comfortable sleep in the scorching heat.
It is designed for heavy-duty loads and can sustain low voltage and thermal overload while being able to oscillate to deliver air across a big room.
Cons:
Havells hasn't included any advanced feature and the lack of adjustable fan speed is the most annoying part.
With that, there is no remote controller included either. The noise from this fan is above average and might bother a few people.
5) Orient 400mm Stand 32 Pedestal Fan'
Pros:
A major name in the fan industry, Orient has a remarkable pedestal fan in its catalog that is designed to give you some relief from this summer.
The base of the fan has wheels installed for you to move it around without having to pick it up.
Some basic controls are included on the pedestal itself and the fan head supports height adjustment, vertical tilt mechanism, and an oscillation feature that goes up to 90 degrees.
Cons:
Assembling this pedestal fan isn't the best and easiest process for being done by yourself. Being made out of plastic, the fan is more prone to breakage when compared to an older metal pedestal fan. Also, given its budget pricing, you won't be getting a remote controller.