Fans are perhaps the only thing that is the most ignored appliance in the home. It is something that stays out of our sight and quietly performs the task it is supposed to. It is the one appliance that is used the most in every household. It is present in every room of the house, yet a person probably only buys it once or twice in their lifetime. Some buy a furnished flat or apartment and go about their lives without ever having to make a conscious purchase decision of buying a fan.
The following product list has been curated for the potential customer to have a look and decide based on their requirements which fan will suit and match best with their needs.
Buying Guide for Ceiling Fans in India 2020
Factors that go into the purchase decision of a ceiling fan are as follows:
Materials used in the appliance
It is important to understand and finalize the materials that will be used in the making of a ceiling fan. Depending upon the time of usage, the temperature of the surroundings and the room, dust particles, atmosphere, and climate of the area, the fan's overall performance would vary.
It is important to understand the atmosphere as the presence of different chemicals or particulates in the air may react to different ceiling fan materials.
Depending on such factors, the user will have to settle on the fan's type of material.
Number of Fan Blades
Ceiling Fans come with all kinds of variations and customization. Some are aimed to be more efficient, and some merely provide aesthetic beauty.
The traditional fans started with 3 blades, but now ceiling fans with 4 or even 5 blades are available.
The problem with increasing the number of blades is that it compromises air circulation.
But the advantage of having more blades is that it reduces noise.
So it is a trade-off between better circulation and lesser noise.
Room Size
The fan is supposed to be purchased based on the room's size to cool down. The fan's blades come of different sizes to suit the requirements of the room.
Some people deploy more than 1 fan for larger rooms, while some go with the customization and get a fan-made with bigger blades to cover the entire room.
Consumers should refer to the term Fan Sweep Size to understand this better. The term denotes the diameter of the circle formed by the fan and blades when operational.
The larger this diameter better equipped for larger spaces to cool. The ceiling fans should be positioned in the center of the room for maximum efficacy.
To get a general idea of the room's size vs. the fan sweep size, refer to the below table. By no means is this ideal, but it can be used as a general idea to make the purchase decision.
| | |
| --- | --- |
| Room Size | Fan Sweep Size |
| < 75 sq ft | 36 inches |
| > 75 but < 100 sq ft | 42 inches |
| < 100 but < 130 sq ft | 48 inches |
| > 130 but < 150 sq ft | 56 inches |
| > 150 sq ft | Customized or to use more than 1 fan |
Tilt in the blades
Fans have blades, but if you have noticed carefully, they are always tilted a certain angle. The reason for this tilt is that it creates an angle, which in turn creates a downward draught of air.
The angled blades create pressure difference, which is important for air circulation. Flat blades will not work due to this simple concept.
An ideal tilt angle for a ceiling fan is 12 to 15 degrees. Any angle higher or lower will create a drag effect for the blades, which hurts the fan's efficiency or exert additional strain on the motor of the ceiling fan.
Noise
Most of the ceiling fans make noise to some extent. The noise reduces with an increase in the number of blades in the fan. But the increase in the number of blades compromises the circulation of air in the room.
Efficiency
Fans are a big part of our day-to-day activities. Along with tube lights, bulbs, and incandescent lights, fans are operated throughout the day. So it is not hard to understand that they consume a lot of electricity.
It is important to understand the BEE rating of the fans before buying them. BEE ratings suggest the electricity-saving that the appliance offers.
As these fans will be operational for most of their lives, the consumer must buy one to help them save electricity in the long run.
Even if a model with better BEE rating costs slightly more than the one with a lesser BEE rating, it is better to go for the better model as the difference in price will pay off in the long run in terms of savings on the electric bill.
Temperature
The temperature range in the vicinity in which the fan needs to operate should be considered while finalizing on a ceiling fan.
The kind of materials used in the fan needs to withstand the temperature of the surroundings and the rise in temperature due to the fan's operation.
These factors need to be kept in mind to avoid additional wear and tear to the ceiling fan.
Miscellaneous Options with a ceiling fan
Ceiling Fan has not been the same since their inception. There has been tremendous progress in their technology over decades.
A lot of leading brands have come up with additional customization in their ceiling fans. Some have added lights, some have been added remote to control the fan, pull switches to control the fans and their speed.
Apart from this, the materials of the ceiling fan are also available with anti-dust and anti-corrosion coating.
Location of Ceiling Fan
It feels pretty straightforward to everyone that the ceiling fan should be in the center of the room, but there's more to that than just position.
The ceiling's normal height from the floor is around 15 feet, and the normal height of a person ranges from 5 to 6 feet. But for safety reasons, you should also see another 2 to 3 feet if you are standing on something or raising your arms.
The fan is attached to the ceiling through a rod that connects or suspends the ceiling fan. Therefore everyone needs to maintain a minimum height of 8 to 9 feet between the floor the fan. Although this is the minimum height, anything more than this is good for everyone.
But there is a myth that the close the ceiling fan is to the ground or the people a better job. But as mentioned in this article, the fan only circulates the air and in no way cools it. So it is always advisable to keep as much distance as possible between the ceiling and floor.
If the room's height is not adequate, one should shorten the mounting rod to maintain a safe distance between the floor and ceiling. And if it is still at a dangerous height and a potential threat, it would be better to look at alternatives rather than settling for a ceiling fan.
Best Ceiling Fans Reviews India 2021
This ceiling fan is one of the most durable and highly reliable fans. It is equipped with a powerful copper motor. So it offers quality performance and longer life. This fan provides the ultimate cooling comfort in the room and delivers more air over a larger room size area.
Key Features:
Blade size- 1200 mm (48 Inches)
Copper motor; Motor Speed: 370rpm
Number of Poles: 12
Number of Speed Setting: 5
Power consumption: 78 Watts
Inverter compatible
Air Delivery: 200 m3/min
Service Value: 2.5 CMM/Watt
Bottom Cover material: Aluminium
Top Cover Material: CRCA
Blade material: GP
Warranty: 2 years on product.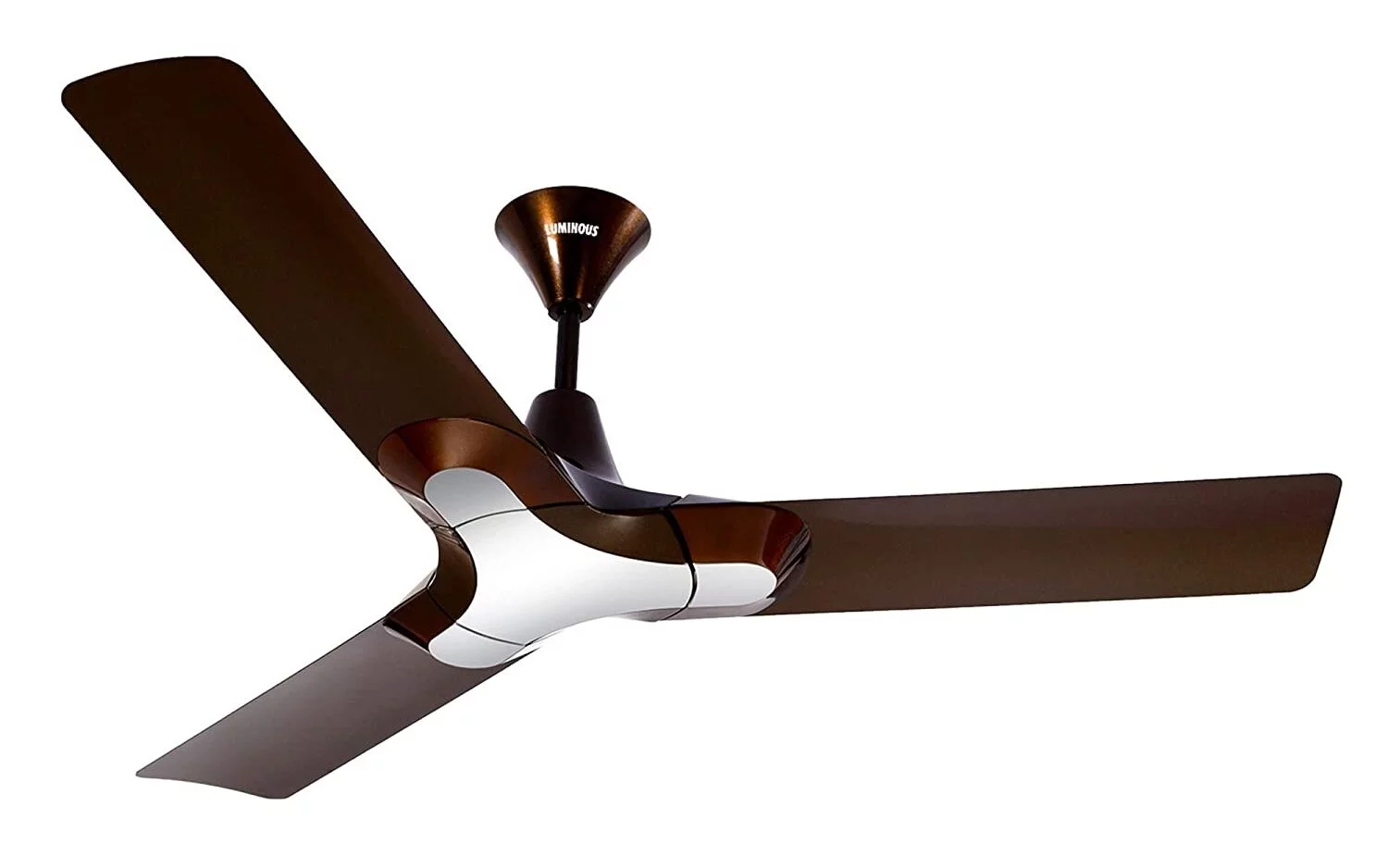 Now give a metropolitan feel to your home. Luminous New York Brooklyn comes with a monochrome blend inspired by the subtle contrasts within downtown Brooklyn. This ceiling fan offers a luxury look to your room, displays a unique combination of style and cosmopolitan flair. The cosmopolitan look includes mirror finish, sleek and subtle contrast based on downtown Brooklyn. It packs a super-insulated copper motor that ensures longer life.
Key features:
Smooth and easy to maintain
New York Brooklyn ceiling fan has premium quality lamination.
A monochrome blend of this signature fan
Inspired by the subtle contrasts within downtown Brooklyn
High air delivery of 230 CMM & its wider blades fetches better air thrust.
It has a metalized lustrous centerpiece extending to its highly efficient blades.
The 1200 mm ceiling fan with wide tip blades fetch high air delivery and spread.
Give a new and complete look to your room by Candes Star 1200mm Ceiling Fan. It is the most energy-efficient fan and offers the most cooling. It is also easy to maintain, clean, and long-lasting fan. Its non-corrosive high-grade aluminum motor body and blades, along with pure electrolytic grade copper windings wire on the motor, ensure longer life of the product. This fan's blades are also wide enough to spread of breeze in all corners of the room.
Key features:
100% Copper Motor, Double Ball Bearings
Meta Finish Looks, Superb Performance
BEE 5 Star Rating Star Fan
Blade Size: 1200 mm; Fan Speed: 400 RPM High Speed
Air Delivery: 230 CMM, Number of Speed Setting: 4/5
Dynamically Balanced Blades
Elegant Contemporary Design, Metallic Finish Paint
High Carbon Steel Bearing
Number of Blades: 3
3 Years Best-in-class Warranty including 1 Year Extended Warranty.
Bajaj is a brand that I think is built for every home in India. As a like brand, this fan is also suitable for every home, office, and commercial space. The look of this fan is also stunning, and it offers energy-efficient performance. It packs a high-speed motor torque for efficient and smooth rotation, so it provides a better and faster cooling experience in every corner of the room.
Key features:
Sweep: 1200mm, Power: 73W
Air Delivery: 210CMM, RPM: 380
Motor Box Dimension (lxhxw) (in mm)-260x215x170
Blade Box Dimension (lxhxw) (in mm) – 390x143x40
Double Ball Bearing: Increases load-bearing capacity and durability
Quick-start High Torque Motor
Provides instant comfort by achieving high performance quickly
Ribbed Blades: Improves Blades Stability
Warranty: 2 years on product
Metalized décor ornament
Rust-free powder coated finish.
Usha Bloom Daffodil 1250mm Ceiling Fan comes with dual color and a well-crafted design that offers an outstanding look to your room. This fan is dust, moisture, oil, scratches, and stains resistant. It is coated with Novel Silane Paint Technology from PPG Asian Paints. This beautiful fan has a unique blade design that ensures high air delivery for maximum cooling.
Key features:
Sweep Size (mm): 1250; No. of Blades:3
RPM @ 230v: 380 ; Performs well even at low voltage
Dust Resistant; Oil and Moisture Resistant
Coated with Dust Resistant lacquer
Number of Speed Settings: 4
Scratch and Stain Resistant: Superior polyurethane coating
Easy to Clean
High Speed-380 RPM (Revolutions per minute) and air delivery of 240m3/min
Electroplated Finish in Trim and Canopy
Unique Blade design for high Air delivery and thrust
Warranty: 2 Year's Manufacturer Warranty.
Conclusion
So we have described all the best ceiling fans In India 2021. Buy now and give your room a new look. Ceiling fans are a great way to cool off in the summer on those nights when you don't need to run the air conditioner. Ceiling fans are much less noisy and intrusive than box fans found on the floor or in windows. And you know the heat rises, right? In the winter months, running your fan on low and in reverse speed will bring down the heat that accumulates up in the ceiling, helping you feel warmer.